Running a successful legacy program requires a lot of effort and thought. It's not impossible, it's just more technical than people think. This is often the biggest surprise from folks who think that legacies just 'fall from the sky'.
What are we talking about here?
The charity needs data…..lots of data. And not just any data, it needs good data. And while we're talking about data, let's talk about the database. No, a spreadsheet is not a database folks!
You think I'm kidding? 🤨
Sadly, no.
These are just some of the cracks in the fundraising program and infrastructure we discover when trying to launch a legacy program. Let's explore the top 5 cracks in fundraising programs that can hinder your legacy success:
This is probably the biggest crack. Having inaccurate, outdated, or missing data in your database makes it just that – junk. Strategies and tactics with junk data end up with junky results. Things like misspelled names, addresses, inconsistency in data capturing processes, no demographic information, multiple records for the same donor, etc. All this will not only hurt your ability to properly target the right prospects but it'll hurt your overall fundraising program. As a reference, check out this previous blog post on Spring Cleaning Your Database.
Many charities tend to start marketing legacies to donors once they reach will-writing age. It makes sense – why would you talk about legacies to your donors under the age of 30-35? However, here's the thing. We know it can take years for a donor to decide to include a gift in their will. So wouldn't it make sense to start sprinkling that legacy dust* across all communications from the first donation? I'm not talking intense marketing – imagine a light dusting to start normalizing the concept amongst your charity's donors. Once they do get to that time in their lives where they're thinking of the legacy they'll leave behind, you'll be glad most of the awareness raising work is already done.
No long-term integrated donor journey 
For decades the sector has been all about the donor pyramid and how fundraisers need to move donors up the pyramid. Such hogwash! Has any donor ever really had a linear relationship with a charity? Seriously doubtful! It's such an old, outdated, organization-centric way of looking at donor relationships. This thinking has led many charities to look at their fundraising and donor engagement programs in a very linear way. In reality, donors move in and out of an infinity loop that may look a little like this: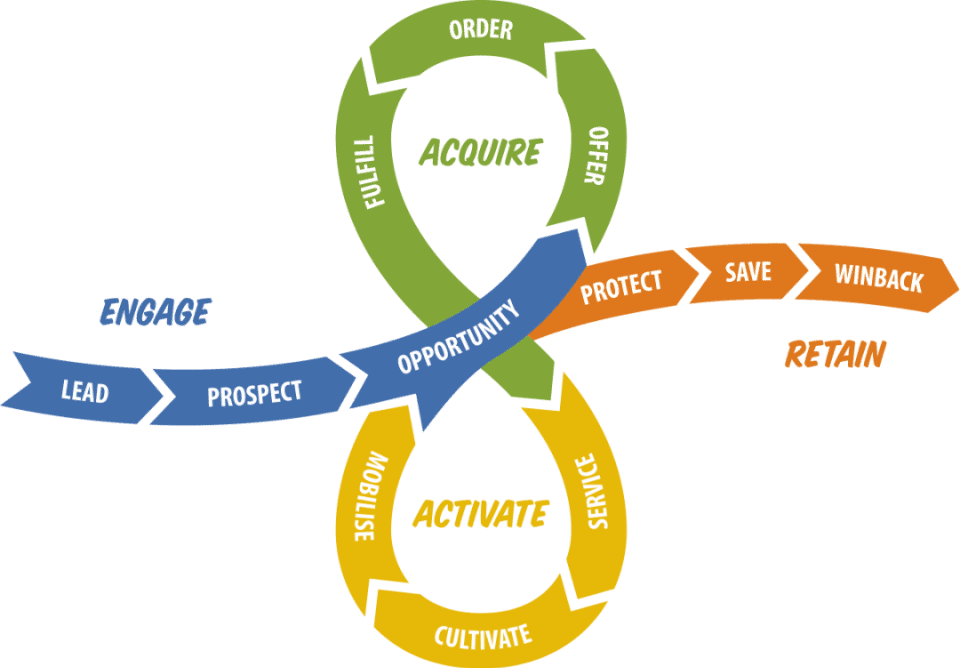 Failure to look at donors in this type of loop could result in donors being put through an organization-focused stewardship process that doesn't respond to their needs. Inevitably, donors disconnect and charities lose the opportunity to develop long-term relationships with their donors. The fix is both simple and complex: listen to your donors and design donor journeys based on their preferences. To do that, you need to develop donor personas based on insights pulled from your database.
As with all fundraising, legacies cannot work in a vacuum. Colleagues in charge of donor acquisition, retention, monthly giving, mid-level and major giving are key to helping the legacy officer identify prospective legacy donors. To do so, they need to be trained on how to recognize a prospective donor and how to help the legacy officer sprinkle that legacy dust. If training is not possible, start with informal conversations so they can start feeling more comfortable with the idea of legacies.
A case for support is often used for capital campaigns or for major gifts. They can also be very helpful in legacy fundraising. Does this mean you have to rush to write your first case for support? Absolutely not! But you do need to know what the vision for the future is, you need to know the impact of legacy gifts so you can craft an impactful legacy proposition. Your charity's legacy proposition needs to tell donors why legacies enable the mission to be realized. It's short, emotional and impactful.
Needless to say, we find a lot more cracks in fundraising programs but these are the ones that will immediately hinder your legacy program. These are big BIG issues that don't get turned around overnight but can be fixed with time and patience. The key is to be mindful of these cracks and to work together to address them one at a time. At the end of the day, it will help all fundraising, not just legacies.
* props go out to Jen Love who put me on to saying this instead of  'drip marketing' (shudder)