Ligia is not your typical boring speaker with lots of opinions or assumptions without backing it up with research.
Thoughtful and honest, Ligia injects a healthy dose of humour in a content-rich presentation.
Being a legacy and fundraising geek means she spends A LOT of time reading research by academics and thought-leaders so she can bring you the most updated information and insights.
Facilitate board and staff retreats: Certified in Creative Facilitation, Ligia can run the most productive, creative and entertaining retreats and strategic planning sessions your organization has ever taken part in.
Donor journey workshop: this 3-days hands-on workshop teaches your fundraising and communications teach how to develop a high-impact and personalized engagement journey so your donors will stay with you for the long haul. 
Keynote: Hire Ligia to keynote your conference. Certified as a Master Trainer by the Association of Fundraising Professionals, she is a sought-after speaker and trainer. She has presented at conferences in the UK, Sweden, Australia, Canada, US, Brazil, Australia, Mexico, and The Netherlands.
Tailored training: Ligia can train your board, your fundraising team or your association members on topics relating to fundraising and legacies. She has ready-made presentations or you can discuss your needs and she'll craft something specific for you.
Webinars: Hire Ligia to develop custom webinars for your staff or members. It's affordable and simple!
Schedule a chat with Ligia to discuss how she can help you reach your goals.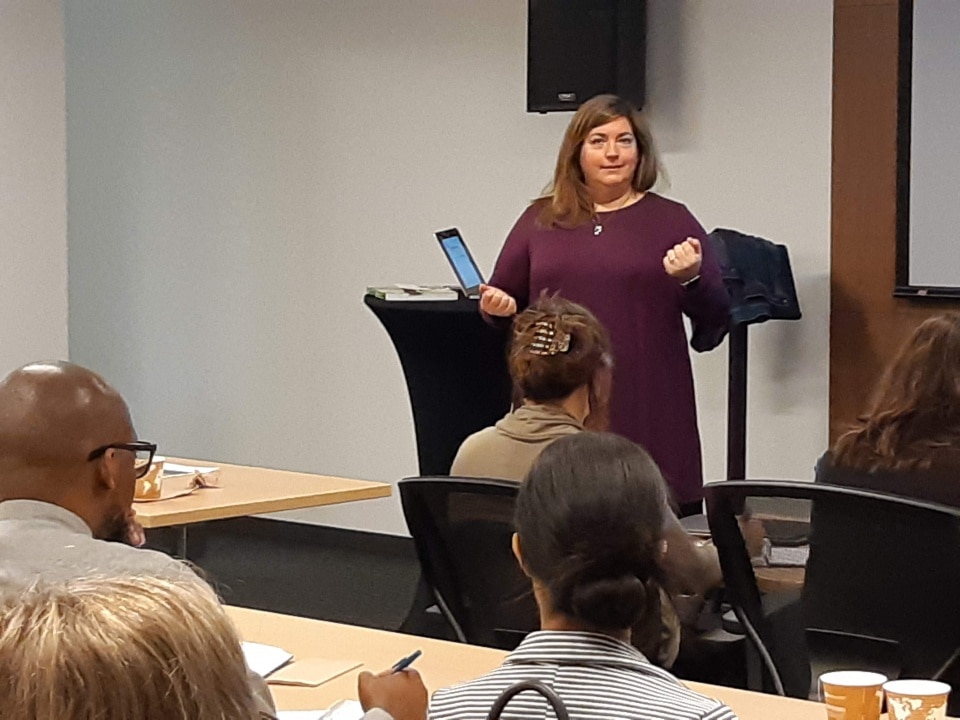 Previous Speaking Engagements
2020
2019
2018
2017
2016
2015
Fundraising Institute of Australia, Brisbane
Masterclass - Gifts in Will: From making the case to developing or refreshing your proposition - how to make bequests work for you
Measuring, monitoring and reporting on your gifts in wills program
Charity How-To (webinar)
How to start a legacy (gifts in wills) program without a budget
How to grow your legacy pipeline on a shoestring budget
Coronavirus & legacies - How your program can survive
Fundraising Everywhere special COVID-19 virtual conference
COVID-proofing your legacy program
AFPeeps University (virtual)
COVID-proofing your legacy program
AFP Global (virtual)
Nudging and Persuasion: The Art of the Legacy Ask
Deep Dive (8-hour virtual masterclass) - Embracing the Power of Your Legacy Pipeline
Un héritage à partager (virtual)
Comment aborder les dons planifiés en temps de pandémie (How to talk about planned gifts during a pandemic)
Fundraising Institute of New Zealand (virtual)
Embracing the Power of Your Legacy Pipeline
Chartered Institute of Fundraising (online conference)
Legacy KPIs and Dashboard
Individual Giving Virtual Summit (virtual)
Masterclass - Decision science techniques that will transform your legacy DM (co-presented with Dana Kovaha Segal)
Arts & Culture Virtual Conference
10 ways to start a legacy program
AFP Mexico Virtual Conference
Planeación y estrategia: herramientas indispensables para superar una crisis (Planning and strategy: essential tools to overcome a crisis)
RAISE 2020 Virtual Conference
Global perspectives of legacy giving
Sustainer Fundraising Virtual Workshop
Converting monthly donors into legacy pledgers
AEDROS Virtual Conference
Cómo empezar un programa de testamentos o legados (How to start a gifts in wills program)
Chartered Institute of Fundraising - Legacy Fundraising Conference (virtual)
Keynote panel: The impact of CV-19 on legacies and the next steps for fundraisers?
International Fundraising Across Borders (virtual)
Fundraising for European organizations from Latin America
Fundraising for North American organizations from Africa
Conversations philanthropiques en culture (virtual)
Table ronde sur la pérennité des organisations culturelle et la philanthropie (round table on fundraising sustainability of cultural organizations)
AFP South Florida chapter (virtual)
Ethics Jeopardy
Relationship Fundraising Virtual Conference
Converting monthly donors into legacy pledgers
NAYDO Marketing & Communications Network
Applying Decision Science in Legacy Marketing
AFP Central Virginia Chapter (virtual)
Embracing the Power of Your Legacy Pipeline
AFP North Carolina Triangle Chapter Virtual Conference
The art of the legacy ask
Charity How-To (webinar)
How to start a legacy (gifts in wills) program without a budget
Association of California Symphony Orchestras conference, Monterrey, CA
The orchestra gold mine: embracing & working through a legacy pipeline
AFP - Quebec Chapter, Montreal, Canada
Fundamentals of Fundraising, Module 5-Securing the Gift (French)
Launching a Legacy Program (French)
Italian Fundraising Association conference, Peschierra del Garda
Embracing your legacy pipeline
Canadian Association of Gift Planners Annual Conference, Montreal, Canada
Legacy KPIs and a dashboard: Reporting without losing your mind
AFP International Conference, San Antonio, Texas, USA
Planned Giving: The Next Generation (1-day masterclass)
Let's talk about the elephant in the room: Mental Health in Nonprofit Sector
Getting Value from your Top Talent: Does Money equal Worth?
Migration at the Border: Managing the Crisis.
Using Facebook and Instagram to boost your legacy program
AFP - Greater Toronto Chapter Annual Congress, Toronto, Canada
Working and Embracing your Legacy Pipeline
Global Perspective of Legacy Giving
AFP Guadalajara Philanthropy Day Conference, Guadalajara, Mexico
Keynote: 10 ideas para revitalizar tu programa de fundraising (10 ideas to reinvigorate your fundraising program)
Preparando la casa para un fondo patrimonial (Getting the house in order for future donations)
AFP Monterey Chapter, Monterey, Mexico
El equipo directivo - socios del desarollo filantrópico (The senior management team - partners for philanthropic development)
AFP Microlearning videos
Launching a legacy program (in English, Français, Español)
International Fundraising Conference, Amsterdam, The Netherlands
Long-term income unlocked: Building a sustainable legacy giving programme (masterclass)
AFP Arizona Chapter Conference, Flagstaff, AZ
Ethics Jeopardy
Ten Ideas to Elevate Your Small Shop Fundraising Program
Institute of Fundraising Conference, London, UK
Ethics Jeopardy
Club de Fundraising interview, Buenos Aires, Argentina
How legacies present a huge fundraising opportunity for organizations in South America (in Spanish)
ABCR, São Paulo, Brazil
Ten Ideas to Elevate your Fundraising Program
Guest presenter for Pamela Grow (webinar)
Working and Embracing Your Legacy Pipeline
Facebook Live with Gail Perry
Insamlingsforum, Swedish Fundraising Association, Stockholm
Ten Ideas to Energize your Small Shop Fundraising Program
Wish I'd Thought of That 10 Years Ago
Legacy masterclass (one day)
AFP International Conference, New Orleans, LA
Fundamentals of Fundraising (pre-con 2-day course)
Gender Equity
Sexual Harassment
Philanthropists, Power & Democracy
AFP International (Webinar)
Working Your Legacy Pipeline
International Fundraising Conference, Amsterdam, The Netherlands
Turning a No to a Yes for legacies
Greenpeace International (webinar)
Best Practices in Legacy Fundraising
Northern Pennsylvania AFP chapter conference
Legacy masterclass
Wish I'd Thought of That 10 Years Ago
Ethics Jeopardy
AFP International (webinar)
Wish I'd Thought of that 10 Years Ago (launching a legacy program)
AFP International Fundraising Conference, San Francisco, CA
Fundamentals of Fundraising (pre-con 2-day course)
Fundraising for/as Social Change
Fundraising Institute of Australia, Gold Coast, Australia
Ethics Jeopardy
Wish I'd Thought of that 10 Years Ago
Bloomerang (webinar)
Launching a legacy program in a small shop
AFP International Conference, Boston, MA
Fundamentals of Fundraising
AFP New Jersey Chapter Conference
Ethics Jeopardy
AFP International (webinar)
10 way to re-energize your small shop fundraising program
AFP International Conference, Baltimore, MD
Fundamentals of Fundraising