Recognizing the importance of having a good legacy web page, a few weeks ago I offered my newsletter subscribers and social media followers the opportunity to get a free audit of their legacy page. The response was great and several fundraisers from around the globe, coming from organizations of different sizes took me up on the offer.
With a big latté in hand, I set out to learn more about legacies from these organizations through the lens of a prospective legacy donor. When thinking back at all the audits, some commonalities started to stand out. Some were seemingly minimal while others were more significant. The following are the most important observations that, if rectified, can increase your organization's engagement with your donors and chances to secure more legacy gifts.
Looking after those with lower vision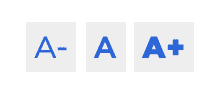 You have probably noticed some websites have this little icon at the top of the website. This seemingly simple and innocuous feature helps visitors with some level of vision loss to increase or decrease text size to ease reading. Knowing that most of your legacy donors are older and most likely use glasses, giving them the option to increase text size on your website will keep them engaged and interested and ensure they obtain the information they are seeking.
Offer something they need
Making sample language easy to find and accessible is a must. With our limited attention span, if the information cannot be found quickly, donors will give up and move on. Donors are not the only ones who visit your website – consider including a section dedicated to attorneys/notaries/trust officers. Nothing is more frustrating to them than having to dig around for your organization's official name, charitable status and sample language.
And let's not forget about codicils! Some donors may already have a will and simply need to update it – a codicil is a simple solution. Of course, make sure you have your documents reviewed by a legal professional so they comply with local laws.
Enable donors to request information
Make it easy for visitors to your website to request additional information by adding an Information Request Form at the bottom of the page or as a sidebar. It keeps your donor on your page and prevents them from leaving your website. 
Of course, some may prefer writing an email and for that, it's important to provide an email of a specific person. The impersonal legacyofficer@acmeorganization.org does not exactly scream "I'll take care of you"! Don't your donors deserve to know who you are? To start building a relationship with you?
Plus the added bonus is that it enables you to capture the donor's name, email and phone number so you can add them to your pipeline and follow up.
In Simon Sinek's book "Start With Why" (as well as his great TED Talk if you want to get the gist of it in 18 minutes), he talks about how you can inspire others to take action by focusing on your why as opposed to your what or how.
This can be accomplished with impactful and emotional storytelling and testimonials. Telling the stories of those supported through gifts in wills, inspiring testimonials from living, and past legacy donors can help drive the message home and show the need and urgency.
And while we're talking about creating all the "feels", this is where you need to show the impact that past legacy gifts have had on the lives of those your organization serves and how they can impact in the future.  
A picture is worth a thousand words
Adding to the previous point, including impact and donors pictures to the accompanying text will drive home the message. They evoke emotions that help donors make that important decision (more on that in a subsequent post 😉). Photos that are up close, where you can see the person's eyes have shown to be more effective than pictures taken from afar or  in groups.
The residual versus pecuniary debate
Several studies have demonstrated that when donors are prompted to leave a residual bequest (percentage of the estate), the amount of the gift is higher than a pecuniary bequest (specific amount). In addition, when referring to a residual gift, the simple act of saying "after taking care of your loved ones, please consider leaving a gift in your will to ACME organization. Even a gift of 5% can make a difference" will help your donors know how they can leave a gift.
Also, when providing sample language, lead with the residual bequest first and put the pecuniary language last.
Bringing it all home …
The full audit covers 11 additional points but if you start with these key best practices, you will be well on your way to better engaging your legacy prospects and donors. It isn't easy to effect change in organizations and you may not be able to tackle all these at once. It's ok, don't stress about it. 
Pick the lowest hanging fruit and move your way up until you have a legacy web page that will charm your donors. And if you would like me to audit your legacy web page, contact me!